Leslie Foster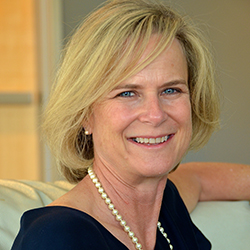 Leslie Foster — President of The Gathering Place
Leslie Foster began her tenure at The Gathering Place as a development associate in 1990. After a few short months, she became the organization's president and has since remained in that role. In addition to leading the daily operations and management of The Gathering Place over the years, Leslie has worked to influence local decision-makers' conversations about the homeless population in Denver and how organizations provide services to women and children experiencing poverty or homelessness.
Leslie has been honored with numerous awards. She was named the 2010 Community Leader of the Year by Community Shares of Colorado, and in 2008, she received the Swanee Hunt Individual Leadership Award from The Denver Foundation and Hunt Alternatives Fund. She has also received the "Woman of the Year" award from the Colorado Business and Professional Women, and the "Foremother of the Year" award from the Colorado Women's Agenda.
Leslie currently serves on the Mayor's Commission to Address Homelessness and was the chair of the Committee on Youth and Families. She has also served as a member of the strategic planning committee and the president of the board of directors for Community Shares of Colorado.
Leslie holds a master's degree in public administration from the Graduate School of Public Affairs at the University of Colorado, Denver, and a bachelor's degree from Stephens College.